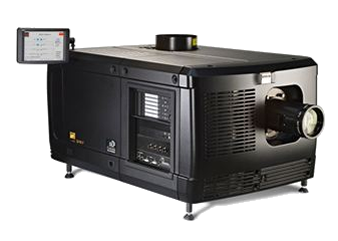 Barco

4K projector
Barco has launched the world's first 4k projector solely with the post production market in mind. Called the DP4K-P, it has a dedicated 4k input board with 4 x 3Gb/s inputs allowing playback in native 4K, combined with a new color filter to accurately match colors to any color gamut.
A unique feature of this projector is the revamped dedicated Communicator software, allowing greater control for color correction for an individuals eye for 3D content. With a new interface and menu structure, this should allow operators to navigate all the functionality of the settings and reducing the need for additional training.
"To achieve best-in-class performance for postproduction, we have equipped our DP4K-P with purpose-designed components such as a 4K input board and a high-contrast lens," comments Goran Stojmenovik, Product Manager at Barco.
Free webinar demo
Barco is hosting free demos of the new dedicated Communicator software on Tuesday March 19th 2013.
Register for the webinar at 08:00 GMT / 09:00 CET / 16:00 CST
Register for the webinar at 08:30 PDT / 11:30 EDT