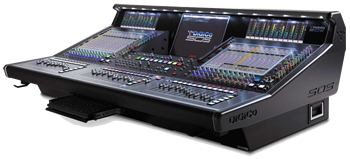 Let me ask you a question. How many consoles do you think it takes to run just the live production at an awards show like this?
Guess again.
For the second year running Digico Consoles, manufactured in the UK, have been the consoles of choice at the GRAMMY® Awards.
This year they used a total of 10 consoles for the Academy Awards.
The audio production team used five DiGiCo SD desks: four SD7′ consoles and an additional SD5 all connected to 11 SD Racks.
On the night they used 276 mic pre-amps with 176 outputs being shared between the five front desks and the 11 DiGiCo SD racks. All this to drive JBL"s new line array, the Pro VTX V25 3 way system.
If that wasn't enough, there were over 50 wireless microphones used on the stages and trucks outside feeding back any of the band's Pro Tools backing tracks – oh you thought it was all live?
Did you guess the right number of how many consoles would be needed to produce an event like this? Me neither. But what a great night.